Page 1 of 13
VIPsight - May 2010
COMPANIES
Deutsche Telekom no longer listed in the US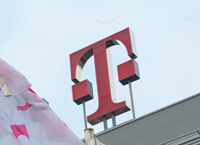 At its meeting on 20 April, the Deutsche Telekom board decided after fourteen years on Wall Street to apply to US securities regulator SEC for both delisting of its American Depository Shares (ADS) and de-registration. In explanation the Bonn DAX group said that it wanted to simplify financial reporting processes and cut costs, even though it would in future too produce financial publications in English and comply with corporate-governance standards. Its Investor Relations bureau in New York would continue to exist. The application for delisting is to be filed on 11 June, and can be expected to come into force on 21 June. With Telekom's withdrawal from Wall Street there are still five DAX groups listed on the New York Stock Exchange: Deutsche Bank, Daimler, Siemens, SAP and Fresenius Medical Care. Eight others have turned their backs on New York in the past three years – most recently insurance giant Allianz.
Commerzbank clears the decks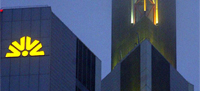 The Commerzbank AGM on 19 May might be a repeat of the previous year's. As last year, three small shareholders have put the motion to withdraw confidence from CEO Martin Blessing. Additionally, the trio wants to hold a special audit into the merger with Dresdner Bank. In 2009, both ideas were however rejected by crushing majorities. In a third point in their motion, the small shareholders are calling for the dismissal of Allianz CFO Helmut Perlet from the Commerzbank Supervisory Board.
Commerzbank itself wants to propose an option at the AGM for how the government's silent contribution could be converted into Commerzbank shares. The bank is proposing to shareholders that they consent to a capital increase of a maximum of 50% of registered capital – the maximum permitted amount. Commerzbank could issue up to 590 million shares, and at present prices raise around 3.7 billion euros. It could then convert part of the government's silent contribution of 16.4 billion euros into shares. To avoid becoming a majority shareholder, the government would have immediately to pass on these shares to-third party investors. But even this way, paying back the aid would take several years.
In the meantime the bank has denied that, as reported in an article in the weekly Focus, it wanted to hive off its shipping and real-estate financier Commerz Real. The European Union has ruled that as a counterpart for the billions in State aid the institution had to hive off several of its components. In the case of real-estate financier Eurohypo Commerzbank has not yet managed to do so. However, in mid-April Allianz Dresdner Bauspar, taken over from Dresdner Bank, was successfully sold to building-society and insurance group Wüstenrot & Württembergische (W&W) for an estimated €130 million.
The merger of Commerzbank and Dresdner Bank is proceeding in the meantime. By August both Dresdner Bank and Commerzbank branches are to receive the new logo of the merged Commerzbank for display. 400 of the total 1600 branches are to be closed, mostly where they are very close to each other. Intentions are that by 2011 all product ranges and services would be unified and the former Dresdner Bank's IT systems migrated to the Commerzbank's systems. In 2010 the merger is claimed to be saving 1.1 billion euros, and from 2013 on 2.5 billion euros annually.
Schaeffler and Continental come together
Last summer the banks gave automotive supplier Schaeffler a loan of 12 billion euros in connection with its takeover of the majority of Hanover car maker Continental, but only on condition that the roller-bearing maker would within one year convert itself into a joint-stock company. Now the Herzogenaurach group has announced that it has secured initial candidates for the Supervisory Board, namely Eckhard Cordes (Metro CEO), Hubertus Erlen (ex CEO of Schering) and Helmut Perlet (ex head of Controlling at Allianz). In a second stage those now appointed could go on to join the supervisory board of the Continental Schaeffler group that would by then be merged.
In the meantime shareholder association Deutsche Schutzvereinigung für Wertpapierbesitz (DSW) has indicated that at Continental's AGM on 28 April it will vote against confirmation of Rolf Koerfer as a Continental Supervisory Board member. The background is a verdict from Hanover Regional Court suspending Koerfer's appointment to the Supervisory Board. The grounds were that shareholders had not previously been sufficiently informed over this Schaeffler man's conflicts of interest. The agenda for the AGM proposes Koerfer's re-election.
German government acts against corruption in Russia
Only in early April, car maker Daimler acknowledged it was guilty of paying bribes in at least 22 countries ̶ including Russia. In the US, proceedings were terminated, for a payment of $185 million. On the basis of this admission, the Russian Interior Ministry has now embarked on investigations. The focus is on business contacts between Daimler and ministries as well as municipal administrations between 1998 and 2008. Accused employees of the Russian subsidiary had already been dismissed, stated the Moscow media.
At the same time, 50 German companies operating in Russia have formed a pact against corruption, including six DAX groups (Deutsche Bank, Linde, MAN, Mercedes, VW and Siemens) and dozens of small or mid-sized businesses. In the Corporate Ethics Initiative for Business in the Russian Federation, the businesses undertake in future no longer to pay bribes in Russia. They hope this open declaration will send a signal to the Russian side, so that they will stop asking for the money. Russian president Dmitri Medvedev has been fighting corruption in the country since he came into office in 2008.
Daimler to cooperate with Renault and Nissan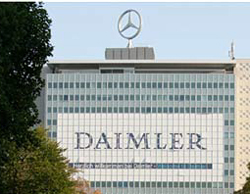 In late March carmaker Daimler announced it would in future be cooperating with Renault and Nissan. The alliance, sealed with crisscross holdings, is to apply to the building of both top-range cars, small cars and utility vehicles. Daimler is taking a 3.1% holding each in Renault and Nissan, while the French and Japanese are each taking 1.55% of Daimler. The French government is still involved in Renault at around 15%. Additionally, Renault holds 44% of Nissan. Whereas Daimler hopes the cooperation with Nissan and Renault will generally strengthen its small and mid-sized car business and yield synergies for its Smart small car, in return the Stuttgart luxury carmaker will supply petrol and Diesel engines for Nissan's top range model Infiniti. Daimler is also interested in Nissan's skills in the area of batteries for electric cars, specifically Nissan's electric car Leaf, planned to come on to the market in late 2010. The cooperation, particularly in the small-car and mid-range area, but also on utility vehicles, is initially to cover platforms, engines, gearboxes, parts and industrial processes. Branding, design and sales are – by contrast with Daimler's failed alliances with Chrysler – to remain independent. To monitor the cooperation, a twelve-man coordinating committee is being set up, and will meet once a month. Once a quarter, Daimler CEO Dieter Zetsche and Renault CEO Carlos Ghosn are to take part in the meeting. In the next five years, on both sides synergies of some 2 billion euros are expected through lower development costs, joint purchasing of parts and higher utilization of assembly and component plants. Only recently, Daimler sold its 5.34% holding in Indian carmaker Tata Motors on the capital markets for some 300 million euros, to balance out losses from its commitments with aerospace group EADS.
Shortly before the carmaker's AGM on 14 April, it was announced that the State of Kuwait's investment fund had cut its holding in Daimler from 6.9 to 4.24% in early March. Kuwait has been involved in Daimler since 1974 and sees its involvement as a purely financial commitment, by contrast with the Emirate of Abu Dhabi, which came in early in 2009, holds 9.1% of Daimler and is aiming for a seat on the Supervisory Board. The Kuwait Investment Authority (KIA) stated, however, that after conclusion of this transaction it would go back to its old level of holding again. On 22 April it already announced a holding of 5.33%. Financial Times Deutschland pointed out that many major shareholders lend out part of their holdings in the runup to the AGM for tax reasons. Whether this is the case with KIA remains open.
VW on a takeover course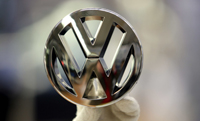 With 65 million new preference shares, at a price of €65 per share and a yield of €4.1 billion from the issue, carmaker Volkswagen's recent capital increase on 23 March was the biggest capital measure in Germany for eight years. Previously, only 105 million VW preference shares were circulating. The number of preference shares also changes the share's weighting in important indexes such as the DAX and STOXX. The German stock exchange will as from 18 June, the next index date, be weighting the security in the Dax up from its present 1.4% to 1.8%. Altogether, before the capital increase some 400 million VW shares were outstanding, a quarter of them preference shares and three quarters ordinary shares. Since however 95% of the ordinary shares are in the hands of major shareholders, investment funds, for instance, can make an investment in Volkwagen only through the preference shares. Even after the capital increase, however, the preference shares have a free float of only 36%.
In the meantime VW has also made its influence at luxury carmaker Porsche manifest in personnel terms. On the Supervisory Board, enlarged to 20 members, five VW representatives have been sent in – including VW CEO Martin Winterkorn, CFO Hans Dieter Pötsch and Francisco Javier García Sanz. However, Wolfgang Porsche remains Supervisory Board chair. His deputy is Works Council Chair Uwe Hück.
At the VW AGM on 22 April a representative of Qatar holding, which come into the company in summer 2009, joined the VW Supervisory Board. Hussain Ali Al-Abdulla, head of Qatar Holding, now represents the new major shareholder that initially came into VW through Porsche's VW options and is aiming in future at a VW holding of some 20%. At the next AGM in spring 2011, accordingly, another representative, Khalifa al-Kuwari, is to join the Supervisory Board.
In the meantime VW, led by patriarch Ferdinand Piëch, is planning to step up its holding in Munich lorry maker MAN from just 30% to a majority, and merge it with VW's Swedish subsidiary Scania. MAN shareholders are complaining that Piëch is ignoring their interests in this connection. VW holds 29.9% of MAN, and Piëch managed at the AGM on 1 April, with an attendance figure of 61%, to secure the election of VW subsidiary Audi's sales director Ulf Berkenhagen onto the MAN Supervisory Board. MAN holds 17% of the votes and 13% of the capital in Scandinavian lorry maker Scania. Together with VW, MAN reaches a voting share of 88% in Scania, and a capital share of 59%. Resistance to Piëch's merger plans is also rising in the Scandianvian company. Here VW has placed the election of VW production director Jochem Heizmann as Deputy Supervisory Board Chair on the agenda for the AGM, against the will of the two minority shareholders, the Scandinavian fund Swedbank Robur and Alecta, which resigned their posts on the appointment committee as a protest against Piëch's highhanded action. The two Scandinavian funds are also angry that VW's move has squeezed well-known small shareholder Staffan Bohman, hitherto Scania's Supervisory Board vice-chair, out of the company.
Sky enlarges its Supervisory Board

At the AGM on 23 April, Rupert Murdoch's News Corporation asserted itself to enlarge pay-TV Sky's Supervisory Board from six members to nine. Among the new members, alongside Chase Carey, is one of Murdoch's confidants, who additionally has the prospect of taking over the Supervisory Board chair from Markus Tellenbach. Both the enlargement of the Supervisory Board and Carey's election got over 99% of the votes. News Corporation holds 45.42% of the former Premiere AG.
IVG threatened with special audit
In mid-March, Immobilien-Verwaltung AG had come into the MDAX company IVG, initially at 18.4%. Multimillionaire Johannes Mann, who also holds Mann Immobilien, the retail chain Wertkauf and Mann Mobilia-Möbelhäuser, had taken over the shares of Solidas 3 SA, former partners in Privatbank Sal. Oppenheim. Mann has since raised his involvement in retail specialist IVG to 20.75%. In early April Mann also announced that in the coming twelve months he would be buying more shares. Analysts are now speculating on a takeover of IVG by Mann or other investors.
In the meantime, Blacksmith is pressing for the appointment of a special auditor and a special representative at IVG. The auditor would look into possible breaches of obligations by IVG Supervisory Board members and former personally liable partners in Sal. Oppenheim Matthias Graf von Krockow and Detlef Bierbaum, in connection with legal transactions between IVG and Sal. Oppenheim. A suppementary motion by the hedge fund to this effect for the AGM on 20 May has reached the real-estate group, as can be seen from a compulsory disclosure.
Beisheim cuts participation in Metro
Otto Beisheim has reduced his holding in Metro from 13.3% to 10.09%, as the Düsseldorf trading group writes on its web page. This level of involvement is "strategically meaningful and sufficient," said Beisheim in October 2009. In autumn last year, the major shareholder (originally he held 18.5%) already placed 5.2% of his shares on the market. Additionally, hedging transactions were concluded, in connection with which he could sell a further 3.1% of the shares at a later date to the hedge provider, whose identity however remains unknown to the public.
BaFin starts investigations at Wirecard
According to a statement by a BaFin spokeswoman, the authority is to look into "clues to market manipulation in shares" at Wirecard. Earlier, the share in the electronic payment solutions provider had fallen by around 30%. The Internet service gomopa had reported that Wirecard was involved in US investigations on money laundering in connection with on-line gambling.
Major raid at Deutsche Bank and RWE
On 28 April a major raid was made, in which, according to FAZ, in Germany alone over a thousand investigators searched offices and private residences of 150 people from 50 companies, looking for major tax evasion on trading in emission certificates. According to FAZ, among those searched were offices of Deutsche Bank, through accounts at which the bulk of the transactions was allegedly processed, as well as of RWE. Those investigated are accused of a so-called "VAT roundabout", in which fake transactions across borders are processed, and allegedly-paid VAT declared to revenue offices. In the Europe-wide action, which FAZ says took place simultaneously also in Belgium, Finland, Norway, the Netherlands, Portugal, Cyprus and the Czech Republic, the figure for the damage amounted in Germany alone to €180 million. Deutsche Bank says, according to FAZ, that the charges against its employees can be refuted.
BMW and SGL Carbon to build an electric car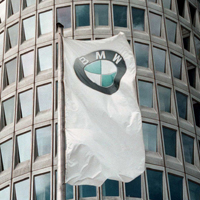 In October 2009 carmaker BMW and carbon specialist SGL Carbon set up a joint venture. In a second stage, the two parties are now to set up a 100-million-dollar plant in the State of Washington, USA, which is as from 2011 to produce carbon fibres for BMW's electric car Megacity Vehicle. This vehicle, specially designed for large cities, is to be assembled in Leipzig from the parts produced in the US. The central figure behind the cooperation is Susanne Klatten, with her holding company Skion. She holds 12.55% of the BMW shares, and a further 22.25% in SGL Carbon.