Page 1 of 13
VIPsight - March 2010
COMPANIES
Infineon rebels fail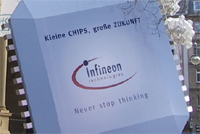 At Infineon, British Pension fund Hermes failed with its counter-candidate Willi Berchtold. Instead Klaus Wucherer, favoured by the old board, is to be elected as the new chair. Hermes wanted a change because Wucherer has been on the board since 1999 and does not stand for the necessary new start. Wucherer received 72.5% of votes and Berchtold only 27%. Hans-Martin Buhlmann of the Vereinigung Institutioneller Privatanleger (VIP) complains that procedures for counting votes were changed twice during the AGM so that ultimately the votes were manipulated.
VW creeps into MAN
Utility vehicle maker MAN SE will be closer in personnel terms too to Germany's biggest carmaker Volkswagen (VW), after the AGM on 1 April. With banker Stefan Ropers leaving the Supervisory Board at his own request, the purchasing head of VW subsidiary Audi, Ulf Berkenhagen, is joining it, becoming the third VW representative on the Supervisory Board beside Audi CEO Rupert Stadler and chair Ferdinand Piёch. Currently VW holds 29.9% of the MAN shares.
The commission payments and corruption accusations at MAN are now having an epilogue. According to the AGM agenda, ex board members Hakan Samuelson, Karlheinz Hornung and Anton Weinmann will not for the moment be given discharge. The background is the still uncompleted special audit for possible breaches of duties by the three executives, who have already left the board.
Commerzbank not free of impositions till 2011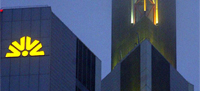 To date an agreement with bank rescue fund SoFFin has prevented semi-nationalized Commerzbank from distributing dividends. Altogether the government has supported Germany's biggest private bank, in difficulties because of its takeover of the Dresdner Bank, with €18.2 billion; of this €16.4 billion were a silent contribution. As a counterpart the government got 25% plus one share in the institution. As soon as the bank makes profits, it has to pay interest on the silent contribution; thise will run up to €1.5 billion this year. Since however the Frankfurt bank made losses in 2009 and expects them in 2010 too, it need not make these payments for the moment. The requirement not to release any reserves for interest or dividend payments will however run out in 2011. Commerzbank should then also be making a profit again and could release the €7.9-billion-strong reserves. That would enable payment of interests and also of a dividend.
Lax supervision at Bilfinger Berger
After the collapse of the Cologne city archives building on 3 March 2009, investigations of Bilfinger Berger for building errors on the Cologne North-South underground railway are expanding. On 19 February Cologne public prosecutors investigated the consortium of firms involved in building the underground. The investigations were of a dozen suspects including Bilfinger Berger employees. Lately there have been accusations that records on the construction of stabilization anchors have been falsified. Instead of building-in the anchors they are said to have been sold on the side to scrap dealers. As head of the construction group, Bilfinger Berger had already dismissed two construction workers and a finisher. On indications from the public prosecutors, the Mannheim construction firm is also investigating shabby construction on the ICE high-speed stretch from Nuremberg to Ingolstadt. On this 171km stretch, building records are alleged also to have been falsified. Lately suspicions have hardened that on the underground in Düsseldorf too Bilfinger-Berger workers did not build some parts in accordance with regulations. One employee has since been dismissed. Despite the accusations made against Bilfinger-Berger, the company sees no occasion to set aside reserves. They had enough insurance, stressed CEO Herbert Bodner.
Daimler cancels dividend
After losses of €2.6 billion Daimler CEO Dieter Zetsche has cancelled investors' profit-sharing in 2009. Last year the distribution had already been cut to 60 cents, but now after fourteen years it is disappearing entirely. The news brought the Daimler share price down for a while by 10%.
Frenzel blocks Fredriksen
At this year's TUI AGM too, Norvegian Investor John Fredriksen had to accept a defeat. Fredriksen has a holding of around 15% in the tourism and shipping group and has been for years fighting for two seats on the Supervisory Board. Together with his confidant Tor Olav Troim, the Norwegian has for long being pursuing a confrontation course against TUI CEO Michael Frenzel, who according to Fredriksen is responsible for the fall in the share price and ought to resign. Criticisms here centre on the TUI financial aid to struggling shipowning subsidiary Hapag-Lloyd, in which TUI still holds 43%, as well as the issue of a convertible bond in autumn 2009. Additionally, the Scandinavians are complaining about the lack of dividend. A special audit called for by Fredriksen did not, however, get a majority at the AGM on 17 February. The Norwegian is also still denied the two seats on the Supervisory Board. Frenzel had offered Fredriksen one seat, but attached to the condition that he would second a neutral person and support management in its strategy. "We are not prepared to pay that price for involvement in the Supervisory Board," said Troim, rejecting this. Meanwhile TUI is looking in the medium term for an investor for its holding in Hapag-Lloyd, so as to concentrate more intensively on its core tourism business. Lately there have been reports that TUI might buy back Tui Travel, listed in Britain. Management has however denied this.
Foreigners building up holdings
Shares in companies listed in Germany were still in demand by foreign investors in February: US star investor Warren Buffett built up his holding in Munich Re from 3% in late January to 5.02% in mid February. One of the best known short sellers on Wall Street, Gilchrist Berg, came into special packaging maker Gerresheimer at 3.1%. US investment firm Fidelity raised its holding in Qiagen to 10.09% and is thus the only shareholder in the biotech firm with a holding of over 5%.
German EADS holding to stay
A consortium of twelve German banks – including Commerzbank and Deutsche Bank – is to keep German carmaker Daimler's 7.5% holding in European aerospace Group EADS. The French government and the Lagardère group still hold 22.5% of EADS. In 2007 the Stuttgart carmaker wanted to lower its holding in EADS from 22.5% to 15%. But to keep Franco-German balance at EADS, the German government searched, at the time in vain, for a German investor for the 7.5% block, so that the transitional solution was agreed with the bank consortium. In it, the credit institutions lent Daimler €1.5 billion and took the 7.5% block plus preference dividends as collateral. Now, according to Financial Times Deutschland, the agreement, expiring in July 2010, is to be extended for three years.
E.On to get rid of IT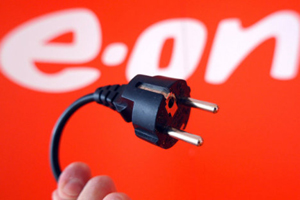 Electricity group E.On is looking for a buyer for parts of its data-processing subsidiary E.On IS, thereby hiving off some €400 million in turnover and 1,600 employees. Up for sale is the IT infrastructure including computing centres, servicing for the electronic equipment at E.On workplaces, including net access and printers, and technical communications including telephony and video conferencing. The group does not want to sell the software and applications segments or control of power grids and power stations.
KBA complains at State aid to Heideldruck
Koenig & Bauer (KBA) complain that State aid given to "other firms" was "apparently used to conserve over-capacity, produce for storage and sell off stocks at bargain prices". KBA stated this in 5 February in a communication disclosing provisional annual figures. The printing-press maker means its competitor Heidelberger Druckmaschinen, which in 2009 received State aid of over €850 million. The bigger rival does not wish to take a position on the accusations. KBA left loss territory in 2009 by a strict course of savings.
Software swallows IDS Scheer
By early February Software had expanded its holding at IDS Scheer to 91.2%. The control and profit transfer agreement has since been entered in the commercial register at Saarbrücken Regional Court and thus has legal effect. The resolution for the agreement was already passed in November 2009. Software wanted to merge IDS Scheer with itself, stated the Saarbrücken firm on 3 February. Integration of the operational processes of the two firms had already begun.
Postbank accounts have mistakes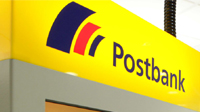 Deutsche Postbank has to correct its accounts for 2008. The German accountancy regulator DPR has complained that the former Post subsidiary wrongly constituted some €90 million in risk provision only in 2009. These reserves for possible losses ought already to have been shown, according to the accounting watchdogs, in 2008. With the corrections now called for, the loss after tax in 2008 rises from €821 million to €886 million. Before tax there are thus some minus €1.1 billion on the books for 2008. For 2009, however, the correction has a positive effect. Before tax, German's biggest bank for private customers now has a €90 million better result, though still negative at minus 398 million. The risk provision was increased from €498 million in 2008 to €681 million now.
The DPR pointed out that the quota for the faulty half-year and annual balances in 2009 had again risen. In the DAX it rose from zero to 14%, and also on the MDAX and SDAX, the indexes for medium and smaller firms, the proportion of errors rose from 18 to 27%. Particularly for banks, drawing up accounts had become difficult in the course of the financial crisis. This had also been contributed to, according to the DPR, by the complicated accounting guidelines of International Financial Reporting.