Page 2 of 12
Buhlmann's Corner
A nifty, if niffy, promotion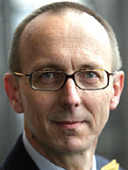 No thinking person, and certainly no investor, will envy anyone this. It's only that it makes you nervous when Friday's active board member will be overseeing the managers of the assets on Monday, without evaluating Thursday's decisions.
This thought and no other played a role for the German legislature, when it in general fairly strictly barred a director from moving to the Supervisory Board within the same company from one week to the next. It was right. And also rightly, it allowed an exception, which steel tycoon Ekkehard Schulz now wants to take advantage of.
At ThyssenKrupp there are on the one hand the loyal shareholders with a quarter of the quorum, and on the other little criticism. This has been so at least since the introduction of the immutable secondment right. Now the CEO was whining for a seat on the Supervisory Board. No longer really an issue for a dependent company, but since it's still listed on the DAX, it gets noticed. The DSW was in principle against the change from Executive to Supervisor, but in this case, next to the forty years of professional experience there were "at least 54 more arguments" for it. The SdK is in principle against the change, but "exceptionally in this case ...". Especially since the former CEO was becoming "only a supervisory board member and not chair". Let's wait and see how long it takes.
Of the 58 percent of the capital present, ten percent less took part in the elections to the Supervisory Board. Presumably, the remaining 3 percent of the 58 wanted to abstain, something that German lawyers, without explanation, count as "not present". Of the remaining 55 percent, 80 percent then finally voted for the election of the ex CEO to the Supervisory Board.
Since the Krupp Foundation combines 27 percent of the capital, Schulz received only 145 million free shareholder votes out of a total of 515 million shares outstanding – that is, only 28 percent of the non-endowed capital. To be elected by a quarter to a third of the free votes is not a very big success for the person – it is a success for the cause. Corporate governance has won for a second time at ThyssenKrupp: keep this procedure an exception and it will not become the rule to skip the cooling-off.