Page 2 of 13
Buhlmann's Corner
Nostalgia for patriarchs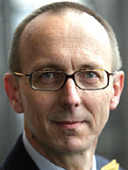 "Here you are at Krupp, with the strong forename Thyssen!" calls out the almost 100-year-old über-father Berthold Beitz, when he receives you at the Villa Huegel. The company shows how to invest really convincingly and grow clear management structures. A few years after one of the ablest mergers in German industrial history and a couple of unsuccessful internationalization attempts, the Group has launched a manageable investment in distant Brazil, a steel plant in Rio de Janeiro.
How carefully the Group's management has prepared for and adapted to Brazilian culture shows in exemplary fashion these days. There can be few patriarchal family corporations in Brazil that maintain a clearer one-person-oriented management culture than ThyssenKrupp. On the one hand a co-founder of German corporate governance, on the other it holds firmly to the rule "one person, one order".
Sure, it may be disputed whether ThyssenKrupp gets to grips with investment stress and economic stress better using Brazilian or European management culture – but the point is that with Berthold Beitz things go more sportingly, and this is good for the foundation. Sure, there is the stock-market listing – but that was just the collateral damage in the merger.
Like every great turning point – yes, it will obviously now go uphill at ThyssenKrupp – this one too needs someone to blame. Here it was the old CEO Ekkehard Schulz, spontaneously acclaimed onto the Supervisory Board only last year. As with Volkswagen and Porsche, the patriarch is first promoted up and only later made a scapegoat. As a member of a Supervisory Board that for six years claimed ignorance, failing to ask the right questions or do anything more than look on, he has done the right thing by "paying himself" only a low fee.
It's different at Deutsche Bank. Here the proud, honoured Supervisory Board focuses on one of its main duties, namely settling personnel matters, and fails at the third public attempt at a solution to the succession to Josef Ackermann. In a model company with national and international standing, the many-headed body played with all conceivable variations on a leaderless succession – a fine example of how not to do it. One can only thank the management team that the company is still out in front – although the supervision for years demonstrated less than consistent excellence. The global operations team is now so good that the managers agreed to lead them in a duumvirate. The shareholders will decide that – or at least a third of them will, since no more come to the AGM.