Page 2 of 12
Buhlmann's Corner
Chance or Money Governance?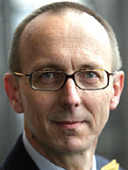 Stefan Ortseifen, till July 2008 CEO of IKB Industrie Kreditbank AG, Lehman Brothers' German little brother, is being dragged through the streets and the media as a symbolic figure for the financial crisis. In fact, he was being pushed by the system, whose weaknesses were enthusiastically accepted and blown up as "German silly money" by the apparatchiks. In fact, all the controls in the system (government watchdogs, regulators, supervisory boards and shareholders) failed miserably. Is it, then, the Deutsche Bank's "fault" if on 26 July 2007 it poured a glass of tea down the tenor's throat and thus made the monetary whirlpool start to gargle and stutter – first at IKB and then in the rest of the world? ... or was it just by chance that it was the Deutsche Bank?
Siemens is the exemplary mega case, and MAN, Daimler, Ferrostaal & Co are only dominos – and there are still 27 to go until the end of the DAX. "Then it got too tight for them in the DAX, so the SEC moved into the stocks..." Ingo Insterburg might text and sing today. Didn't the USA itself, having acted here as the teacher of corruption, wage an entire war on false documents with its friends' money, and at the cost of many human lives? Of course corruption is bad, and most religions call it contemptible in their dogmas. Of course, from the economic viewpoint it is a misallocation of capital where there is corruption. But there are good reasons why the allocation of intelligence becomes better for it – though admittedly, and particularly regrettably, with an increase in features of contempt for people, even going as far as taking mafia-like forms. Ultimately, however, the American authorities give the worst example. An unholy coalition of advisers and officials randomly squeezes first the one and then the other. Is there anybody who reacts because he thinks he cannot be squeezed? Practice at any rate shows that there are no owners that defend themselves – not even the American beneficials. And certainly not the Champagne growers in Rheims.