VIPsight - September 2010
COMPANIES
Companies dispense with ratings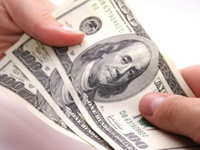 When issuing loans companies are increasingly doing without ratings from the big agencies. In Germany SAP, adidas, Otto, Solarworld, Sixt, Evonik, Celesio and Stada, and most recently also Dürr, are the leaders. Internationally, Christian Dior, Air France, Emirates and Heineken join this list. Doing without a rating saves the groups money and at the same time increasingly takes the ground from under the feet of Standard & Poor's, Moody's and Fitch. The DZ Bank estimated the market for ratings-free loans in the first half of this year at already some 10% of all bond issues, with a rising tendency.
Commerzbank soon private again?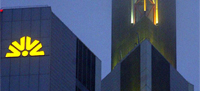 "For a Liberal politician there is scarcely anything worse than State involvement in banks. Something like that has to remain an absolute exception," warned federal economics minister Rainer Brüderle (FDP) in early August in relation to the Commerzbank. To save Germany's second-biggest financial institution from collapse after the takeover of Dresdner Bank, the State came to the Frankfurt bank's assistance in early 2009 with €18.2 billion, and since then has held 25% of the bank plus one share. €16.4 billion of the amount are a silent investment, bearing interest of 9%. With his statement, Brüderle sparked off discussion as to when interest on the aid money will run from and how fast the State aid as a whole is to be paid back. In 2009, because of losses, Commerzbank paid no interest to the bank rescue fund. This year the bank will conclude its group result in the blue, and after 2012 possibly start repayments, said management in early August. The criterion for interest payments or repayment of the money is, however, the company result calculated in accordance with the Commercial Code, which might possibly be in the red for the whole year 2010. Brüderle called for the State to have completely withdrawn from the Frankfurt bank by three years at most. Here, however, federal finance minister Wolfgang Schäuble (CDU) links repayments and interest payments to the general financial situation of the institutions involved.
Turbulence at Conergy

In formal terms, the solar group's creditor banks have extended the loan due at the end of July through the end of 2011. While after three years of losses Conergy had managed to regain the profit zone in the second quarter of this year, its equity capital continues to be dangerously low. To protect the company against possible bankruptcy, the twenty banks involved are currently looking into whether they should convert their loans to equity capital and thus into shares. This might however involve big write-offs that would burden the banks' balance sheets. Auditors are now to draw up an opinion on the Hamburg group's business development that can act as a basis for decision. Another destabilizing factor is the reshuffle at the head of the group: ex Infineon CEO and Conergy deputy CEO Andreas von Zitzewitz was really supposed to take over from group CEO Dieter Ammer at the end of October, but in August he resigned with immediate effect. On 1 November, moreover, CFO Jörg Spiekerkötter's contract expires. Ammer will now for the present extend his appointment.
Bidding race for BHF
16 August was the first closing date for non-binding bids for Deutsche Bank subsidiary BHF. As well as Liechtenstein bank LGT, French BNP Paribas and Swiss private bank Julius Bär, financial investors like Permira, Apollo and Kohlberg Kravis Roberts (KKR) have also apparently displayed an interest, writes Financial Times Deutschland (FTD). All bidders able to present a convincing concept are now to be given a closer look at the BHF figures. When it bought Cologne private bank Sal. Oppenheim last year, Deutsche Bank had also taken over the BHF bank, but wants to get rid of it. Since the BHF bank's business focus is on risky capital-market transactions, the Federal Financial Services Oversight Panel (BaFin) will look closely at ensuring that the institution is taken over by a purchaser with a strong rating. As a purchase price €600 million has been mentioned.
Mortgage insurers against Deutsche Bank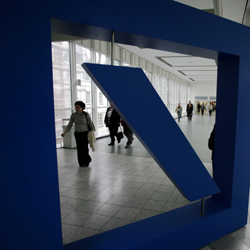 The on-line magazine Der Aktionär reports that Deutsche Bank may possibly be facing a major lawsuit. US mortgage insurers such as MBIA, eleven syndicated banks and several issuers of mortgage-guaranteed securities wish to sue for wrong or misleading information on real-estate values. A study by Compass Point Research and Trading LLC estimates the possible total claims at $134 billion. The accusations are however not new, and the likelihood that the losses really are of the size mentioned is rather small, says the magazine.
MAN's new compliance system

A year after the corruption scandal at car and engine manufacturer MAN SE, the second-biggest bribery case in German postwar history after Siemens, the new compliance system is taking shape. Currently the team around the anti-corruption officer appointed at the start of the year, Olaf Schneider, numbers 25. By the year's end there are to be 44. Schneider is relying on the employees' own responsibility: they are allowed to spend up to €100 on a meal and receive gifts to a value of €50.
Hapag-Lloyd considers refinancing

Even a year ago things looked extremely gloomy for the world's sixth-biggest shipping firm, Hapag Lloyd. To escape bankruptcy, the subsidiary of tourism group TUI had even asked for a State guarantee. Now the Hamburg company, in which TUI still has a 43.3% share, with the other shares being held by the Albert-Balim-Konsortium, is brightening up the balance sheet of its parent in Hanover. Between April and June Hapag Lloyd had earnings before interest, taxes, depreciation and amortization (EBITDA) of €226.2 million, thus bringing TUI's profit for the third quarter to €105 million, making profit for the whole year possible. This comfortable economic position is now sufficient occasion for the Hapag management to discuss giving back the State guarantee and proceeding with the necessary refinancing. As long as the State guarantee is present no dividends can be paid out and claims will be deferred. The refinancing that has now become possible is to be insured by a loan of at least €500 million, associated with a higher credit envelope. The shipping firm still has debts of €600 million with its parent TUI, and at the end of June it had commitments of €1.2 billion to banks.
Wiedeking's disclosure was correct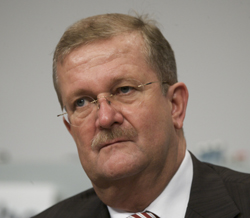 Next year the merger of the two carmakers Volkswagen (VW) and Porsche is to be completed. However, in the runup to the merger both partners are to be subjected to assessment. This might increase VW's weight, which might also have effects on the proportion of shares in the new group. In the meantime, along with DWS supervisory-board member Christian Strenger, Deka Bank and the Scandinavian pension fund Norges Bank had submitted an application for a special audit to Stuttgart Regional Court in early August. After Strenger's motion to this effect failed at the Porsche AGM, the member of the Government Commission on the German Corporate Governance Code wishes in this way to have both the option transactions in the planned takeover of Volkswagen by Porsche and the severance payments of €62.5 million to ex Porsche CEO Wendelin Wiedeking and ex CFO Holger Härter declared illicit. Investigation of both by Stuttgart public prosecutors for breach of disclosure obligations has been discontinued.
Springer in the MDAX
From 20 September the Axel Springer AG share will be listed in the MDAX, displacing civil-engineering specialist Bauer, which slips down into the SDAX. Network equipment supplier Adva Optical moves into the TECDAX, while biotech company Medigene leaves the technology segment. The DAX remains unchanged. The next review of index composition is on 3 December.
Buhlmann's Corner
Who are the people?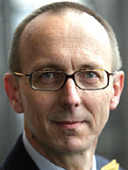 How long can a king rule against the people? In 1989 chanting human chains threaded through Leipzig's city centre, and a little blooper on television ended with the breaking down of the Wall. In 2010 half the nation's managerial elite goes on the media to announce "we are the people", to get the government back on track again. If there were elections today, there would presumably be a different ruler.
Dare a ruler set up a successor he knows the majority of voters do not "want"? Dare a company or town administration invest in a project that brings upright Swabians onto the streets in droves? Should levies be invented that may be justified in terms of regulatory policy but are manifestly nothing other than sharp practice? I am thinking here of the solidarity levy which for 20 years has been facilitating the merger of the German Democratic Republic with the Federal Republic, or the sugar-market levy, forgetting to abolish which has led to a new sugar-sweet sugar tax on the new European elite. Now the nuclear levy is to come on top of it all, probably leading mainly to frightening off the energy consumer.
If the people do not pull the responsibility brake, then they have no right to complain later – at most, they should leave the country. If the shareholder does not pull the responsibility brake then he too has no right to complain later about what management has got up to.
The people of Karstadt pensioners are still surprised that breaking up the group depends on a decision about an oustanding account of the very bank that those very same pensioners wholly own. Who was actually on the Supervisory Board when all this started to happen? Who is going to take responsibility for it, and not just their fee? Or is there nothing like that in retirement provision, since after all the Pensions-Sicherungs-Verein is there to guarantee pensions? There the facts, the incomes and the irresponsibility are remixed, recalculated and reconverted – is it any surprise if the contribution is multiplied several times this year?
What counts is the people. And it is the people who have the power – if they only want it.
ACTIONS CORNER
On appeal, Deutsche Bank has won its case against Stadtwerke Pforzheim (SWP) over so-called Spread Ladder Swaps. Frankfurt Higher Regional Court confirmed that the bank had given adequate information regarding derivative transactions and therefore threw out the action for damages. In first instance, the Regional Court had found in favour of Stadtwerke, meaning the institute would have had to pay SWP €3.9 million for alleged wrong advice on derivatives. The bank appealed against this decision.
Politics
Political decision on bank levy and bankruptcy procedures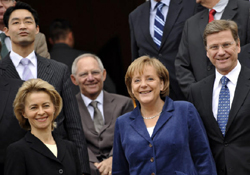 In late August the "black-yellow" [Liberal plus Christian Democrat] government set both the long-controversial bank levy and a new bankruptcy procedure for credit institutions going. The model of the bank levy provides for the setting up of a restructuring fund, to be administered by the Financial Market Stabilization Institution (FMSA). Except for insurance companies and investment funds, all credit institutions, including savings banks and cooperative banks, will have to pay into the fund. Both liabilities (less equity capital) and customer deposits will be taxed. The tax rate starts at 0.02% for ten billion Euros and ends at 0.04% for all amounts exceeding 100 billion Euros. The amount of levy, to be paid annually, is capped at 15% of the group's annual result. Calculations estimate the proceeds of the levy at up to €1.2 billion per year. Through this money the banks are not only to take a share in the course of the crisis but also create a vehicle through which in future money can be made available in critical situations. In the long term the new fund is to replace the Special Fund For Financial Market Stabilization (SoFFin) and to provide credit guarantees for up to 100 billion Euros.
The new bankruptcy procedures decided by the federal cabinet provide for a two-stage model in which large banks networked worldwide can be restructured in crisis situations. In a first stage, in a so-called rehabilitation process, a voluntary insolvency-plan procedure can be brought in. Here, the court can appoint a reorganization consultant responsible for implementing the procedure presented by the bank. At this stage no interference can be made with rights of third parties, including shareholders. In a second stage, systemically relevant parts of the bank can be hived off and transferred to a private purchaser or a governmental bridging bank. The relevant bills are to be passed in Parliament before the end of the year.
EU tightens up oversight over insurance companies
EU financial watchdogs want in future to take closer oversight of insurance companies and financial institutions operating across borders. Following three years of consultations, the Brussels officials want to equip national authorities for the purpose with new rights of intervention in parent companies and holding companies. Some 60 European financial groups are affected by the new regulations, including Allianz. If Member States and the EU parliament agree, the new rules could enter into force as from 2012.
More debts because of new accounting rules

According to the draft new joint accounting standards published in mid-August by the International Accounting Standards Board (IASB) and its US counterpart Financial Accounting Standards Board (FASB), companies are to disclose their leasing and rental contracts in full on their balance sheets as from 2013. In future the beneficial interest and corresponding commitments for utilization of the leasing object will be on the balance sheet, always and independently of the old rules. This means that the commitments to be disclosed by many companies, especially airlines, logistics firms and retail traders, will in future be considerably higher. The debts of DAX groups will increase by €76.3 billion on the new standard, stated Wirtschaftswoche. To date a distinction is drawn between financial and operational leasing, so that leasing rates did not appear on the balance sheet if leases were only for a short period. With the current accounting procedure some 640 billion dollars failed to appear on balance sheets, complained IASB head David Tweedie. Constant leasing rates are now replaced by write-offs on the beneficial interest activated as well as interest costs. This means a predating of expenditure which might mean that the degree of indebtedness of leasing customers could lead to poorer credit conditions. Companies involved are also making the criticism that the new accounting is inconsistent and increases the complexity of final accounts.
Balance-sheet rules should be reformed
Current standards for balance sheets have in the view of various experts helped to bring about the financial crisis. To make annual accounts more transparent and give more weight to sustainability, the International Integrated Reporting Committee (IIRC) has brought together major groups, regulators and auditors together with stock-exchange operators, who with support from the US accounting panel of the FASB and the European IASB wish to renew the regulations. The group is also supported by the four major accounting firms Deloitte, PwC, KPMG and Ernst & Young. Still in 2010, the committee wishes to develop a set of measures which will then be presented to the G20 States in the coming year. As well as the pure figures, comments by management and group management, an overview of executive pay and social and economic indications should also come into focus more. No German companies are part of the initiative.
Bank loans more uncertain in future?
The Basel Committee, responsible for bank regulation worldwide, suggested in August, according to the FTD, that banks should in future be able to give only Tier-2 loans that can in bad situations be converted into shares or written off. Investors could then no longer in the case of future bank loans be able to rely on the rescuing of a bank servicing their loans. The bank representatives have until 1 October to take positions on the proposal.
Consultant liability tightened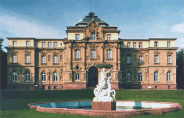 The Federal Court of Justice tightened the liability of financial advisers in a ruling in August. To date sellers of closed funds for real-estate or shipping investments rely on the fact that their customers are aware of the risks described in the sales prospectus. The judges in Karlsruhe have now ruled that the sole deciding factor is what the adviser said about the risks in talks. To date, moreover, a three-year statute of limitations applied to consultant liability, running from the date the sales prospectus is handed over. Now with closed funds the clock will start running from the date when the investor hears about the risk in the investment.
Damage compensation in the event of breach of trust is to require proof
In August the German Constitutional Court clarified the requirements for finding a manager guilty of breach of trust. For a verdict, accordingly, the courts must in future put more exact figures to the damage the group's management have caused. The Constitutional Court accordingly set aside the judgments in the Berlin banking scandal and referred the cases back to the Regional Court. Managers of the Berlin bank were accused of having issued a loan of ten million Euros in the 1990s despite existing risks. The judges in Karlsruhe found that it had not been established beyond doubt that the conduct of the ex managers had actually caused damage to the bank. The decision went differently in the Siemens corruption case: the setting up of slush funds had clearly caused damage to the Munich group. The Siemens judgments accordingly needed no revision. The federal government sees no need to change the existing laws. All that was needed was to clarify an existing act.
People

Andreas von Zitzewitz, appointed deputy CEO in July 2009 as successor to Dieter Ammer, left Conergy on 19 August with immediate effect, following a supervisory board meeting. He was to replace the former Tchibo manager as designated successor at the end of October. The 50-year-old will receive payment on his current contract, due to expire at the end of 2011.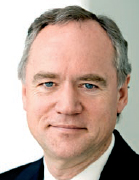 Bernhard Reutersberg took over, with immediate effect, the last free board seat and thus responsibility for Länder companies at E.ON, stated the Düsseldorf DAX group on 11 August. Currently head of subsidiary Ruhrgas, he brings the energy group's board up to six members, thus bringing the leadership team round CEO Johannes Teyssen up to strength again.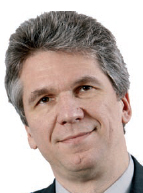 Klaus Miller joined the board of Hanover Re on 1 September. The 50-year-old would be taking over market responsibility for north and central Europe. This was stated by the MDAX group on 11 August. Miller most recently was in charge of the Structured Insurance Solutions sector at Commerzbank.
Andreas Stockert, who moved from Kühne + Nagel management in June 2009 to HUGO BOSS, has resigned as Chief Operations Officer (COO), by agreement with the Supervisory Board, on 6 August, to devote himself to other tasks, stated the fashion group, controlled by financial investor Permira, on 4 August. Nothing is known as to the background to this staff decision.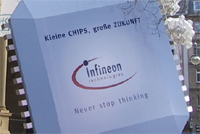 At Infineon, Peter Bauer has won a power struggle on the board. Marco Schröter is leaving the company with immediate effect. The executive committee of the Supervisory Board had long been considering making Bauer group chairman. Following the appointment, Bauer is also said to have taken on competence for mergers and takovers. Before the decision Schröter allegedly protested and threatened to resign.
The board of Software has been cut from six to four members in the context of the newly created Group Executive Board. Existing board members Mark Edwards and Ivo Totev have taken posts as sector directors. A new member is Wolfram Jost, appointed to the board as of 1 August. Current products director Peter Kürpick left the company at his own request.
Campus
Fewer shareholders in Germany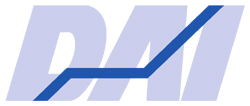 According to the latest survey by the Deutsches Aktieninstitut (DAI) the number of share and share-fund owners fell by 0.2 million in the first half-year to 8.6 million. This corresponds to a shareholder quota of 13.3% of the German population, the lowest level since 1999. Since 2001 the number of shareholders has shrunk by around a third. However, the number of direct shareholders rose by 269,000, whereas the number of share-fund holders fell by 484,000.
PDF is the standard for business reports
92.9% of companies, finds geschäftsberichte-portal in its July survey, produce their business report as a PDF document and publish it on their homepage. 28.6% of them send out this document by email. In most cases the file size is between two and five megabytes. 69.2% stated that analysis and file size were criteria of equal value: 61.5% secure their reports, 15.4% of them by password, 30.8% against changes, and a further 15.4% against the copying of texts. Freedom from barriers was a concern for only 30.77%.
IR turns to social networks
Canada's Q4 Web Systems expanded its study of so-called social networks this year. It says the trend in investor-relations services is towards active utilization of portals like Twitter or Facebook. While in 2009 35% of the 350 firms surveyed stated they used short-message service Twitter for IR purposes, in 2010 the figure was already 65%. Facebook was used by 37%, YouTube by 29%, corporate blogs and SlideShare by 10% each, and Linkedln by 93% of firms surveyed.
BASF, Deutsche Post and Linde in front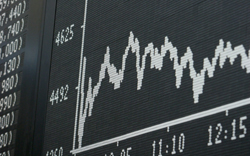 The chemicals giant BASF SE, Deutsche Post and industrial-gases producer Linde this year presented the best on-line business reports in the DAX and the MDAX, according to business consultancy Kirchhoff Consult. Between May and June 2010 it assessed the categories of concept, design, service and technique. Whereas BASF, Deutsche Post and Linde were convincing particularly for their concept, Deutsche Bank and chemicals group Lanxess scored best for design. Insurance company Allianz scored in terms of service. Demag Cranes, Deutsche Post and Linde were able to sparkle for technique employed. Altogether, of the 30 Dax groups 29 published an interactive on-line business report that uses HTML, hybrid versions and PDF Plus to go beyond a simple PDF variant. 23 DAX companies and 37 of the 50 MDAX groups were convincing here with all-out HTML reports. A new feature is the use of social bookmarks. Here the user has the possibility of feeding the on-line report to their social bookmark service such as Facebook or Twitter with a few clicks and thus sharing it with their social network. Eight of 30 DAX groups equipped their on-line reports with social bookmarks in 2009.
Banks' poor image

The financial-market crisis has severely damaged the image of banks. According to a representative survey commissioned in April by the Bund deutscher Banken (BdB), four of ten respondents stated that their trust in banks had suffered strongly from the crisis. In March 2009 the figure was a full 54%. While there has been considerable progress with efforts to regain the trust of bank customers, the credit institutions still need some time to rehabilitate themselves completely, says the BdB. However, eight out of ten bank customers stated they were satisfied on the whole with the investment advice from their own bank.
Capital News
Sky Deutschland is planning to carry out financing measures with gross proceeds amounting to at least €340 million. In connection with a new capital increase, up to 269,580,929 new shares are to be issued. The rights offer is planned for September-October. As well as the new share issue, the issue of a convertible bond or preparation for a company loan by News Adelaide Holding is also in the offing. This 100% indirect subsidiary of News Corporation, which currently holds 45.42% of Sky Deutschland's registered capital, has committed itself to subscribing the rights offer at least at a price not below the legally required net minimum price and to subscribing up to 49.9% of the registered capital of Sky Deutschland after the conclusion of the financing measures.
Wincor Nixdorf will be buying back up to 400.000 shares between 3 August and 3 November. This was decided by the board on 2 August on the basis of authorization from the AGM on 25 January, as emerges from a press release published on 3 August. As in previous buyback campaigns, proceeds would be used in particular to service share option programs. By the end of the business year 2008-9 the ATM manufacturer held 1,420,980 of its own shares, corresponding to a proportion of 4.295% of the registered capital. The planned buyback could raise this proportion to 5.5%.
Director's Dealings
in August
| | | | | | | |
| --- | --- | --- | --- | --- | --- | --- |
| Company | Person | Function | Buy / Sell | Total value in Euro | Number of shares | Datum |
| AIXTRON | Joachim Simmroß | SB | B | 48.735 | 3.000 | 13.-18.08.2010 |
| AIXTRON | CAMMA GmbH | | S | 1.809.363 | 74.608 | 30.07.2010 |
| Allianz | Michael Diekmann | MB-Head | B | 410.000 | 5.000 | 20.08.2010 |
| Celesio | Dr. Fritz Oesterle | MB-Head | B | 166.900 | 10.000 | 16.08.2010 |
| Delticom | Binder GmbH | | B | 14.756 | 369 | 13.08.2010 |
| DEUTSCHE BANK | Lewis Stuart | | S | 234.000 | 4.500 | 19.08.2010 |
| DEUTSCHE BANK | Kevin E. Parker | | S | 369.211 | 5.000 | 04.08.2010 |
| DEUTSCHE BANK | Seth Harisson Waugh | | S | 1.811.776 | 25.283 | 29.07.-02.08.2010 |
| DEUTSCHE BANK | Dr. Michael Kröner | | S | 191.109 | 3.588 | 28.07.2010 |
| DEUTSCHE BANK | Pierre de Weck | | S | 843.889 | 15.607 | 29.07.2010 |
| Dialog | Martin Powell | | B | 11.594 | 1.319 | 24.08.2010 |
| Dialog | Andrew Austin | | B | 23.969 | 2.500 | 09.08.2010 |
| Dialog | Gregorio Reyes | MB | S | 477.000 | 45.000 | 23.07.2010 |
| Dialog | Gregorio Reyes | MB | B | 19.800 | 15.000 | 22.07.2010 |
| Douglas | Dr. Henning Kreke | MB-Head | S | 590.655 | 16.900 | 23.-26.07.2010 |
| Drillisch | SP Beteiligungs GmbH | | B | 295.906 | 58.875 | 13.08.2010 |
| E.ON | Jorgen Kildahl | MB | B | 46.045 | 2.000 | 17.08.2010 |
| Fraport | Peter Schmitz | MB | B | 40.660 | 1.000 | 09.-16.08.2010 |
| FMC | Michael Brosnan | MB | O | 479.133 | 10.683 | 19.08.2010 |
| FMC | Dr. Ben J. Lipps | MB-Head | O | 8.807.798 | 204.146 | 09.-16.08.2010 |
| FMC | Rice Powell | MB | O | 3.342.793 | 77.577 | 06.08.2010 |
| FMC | Dr. Rainer Runte | MB | O | 986.300 | 22.884 | 05.08.2010 |
| Fresenius | Rainer Baule | MB | O | 919.696 | 25.800 | 06.08.2010 |
| GEA | Michael Kämpfert | SB | B | 11.688 | 697 | 18.08.2010 |
| GEA | Alexandra Heraeus | | B | 79.210 | 4.800 | 16.08.2010 |
| GEA | Birgit Heraeus | | B | 69.287 | 4.200 | 16.08.2010 |
| HeidelbergCement | Kötitzer Leder | | B | 19.805.654 | 595.000 | 19.-24.08.2010 |
| HeidelbergCement | Dr. Dominik von Achten | MB | B | 142.283 | 3.688 | 30.07.2010 |
| Kontron | Ulrich Gehrmann | MB-Head | B | 28.000 | 5.000 | 26.08.2010 |
| Linde | Dr. Aldo Belloni | MB | S | 4.054.030 | 43.139 | 03.-05.08.2010 |
| Linde | Josef Schregle | SB | S | 16.111 | 172 | 03.08.2010 |
| Linde | J. Kent Masters | MB | S | 294.030 | 3.139 | 03.08.2010 |
| Linde | Prof.Dr. Wolfgang Reitzle | MB-Head | S | 882.278 | 9.419 | 03.08.2010 |
| Manz Automation | Volker Renz | MB | B | 4.950 | 100 | 20.07.2010 |
| MTU | Udo Stark Vermögensverwaltung | | S Bond | 328.000 | 3 | 10.-19.08.2010 |
| Nordex | Ventus Venture Fund | | B | 2.126.393 | 299.988 | 17.-24.08.2010 |
| RHÖN-KLINIKUM | Detlef Klimpe | SB | B | 19.514 | 1.100 | 05.08.2010 |
| RWE | Dagmar Sikorski-Großmann | | B | 161.088 | 3.000 | 12.08.2010 |
| SAP | Dr. Angelika Dammann | MB | B | 50.240 | 1.420 | 23.08.2010 |
| SMA Solar | Alexander Naujoks | SB | B | 9.439 | 110 | 13.08.2010 |
| Tognum | BJC Equity KG | | S | 11.812.500 | 750.000 | 10.08.2010 |
| Vossloh | Norbert Schiedeck | MB-Head | B | 49.500 | 45.000 | 28.07.2010 |
| Vossloh | Dr. Wilfried Kaiser | SB-Head | B | 76.020 | 1.000 | 28.07.2010 |
VIPsight Shareholders
in August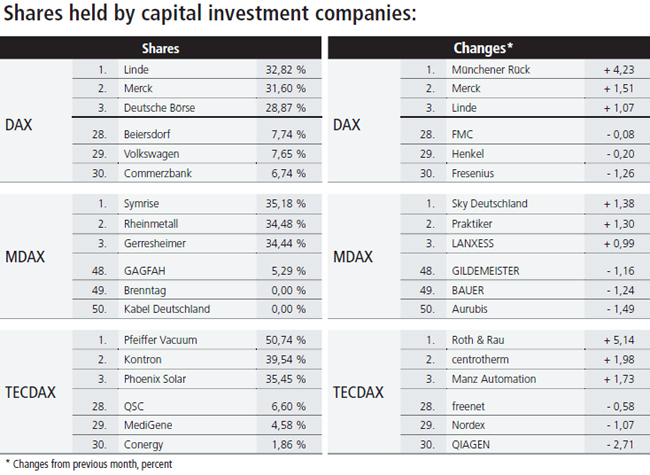 VIPsight Shareholder ID <click here>
Event Diary
9 September 2010 Corporate Governance im Umbruch [Corporate Governance in Transition]
Organizer: DAI; place: DVFA-Center im Signaris, Frankfurt am Main, Mainzer Landstraße 37-39; cost:€900; info: 069 929 150
14 September 2010 Forum Financial Services 2010
Organizer: SRC Research; place: Hilton, Frankfurt am Main; cost: none; info: www.src-research.de/ffs
23-24 September 2010 CFS-Conference House
28 September 2010 Hauptversammlungssaison 2010 [AGM season 2010]
Organizer: DAI; place: Alte Börse, Frankfurt am Main; cost:€900; info: 069 929 150
29 September 2010 M&A und Private Equity 2010
Organizer: Frankfurt School of Finance & Management; place Frankfurt School, Frankfurt am Main, Sonnemannstraße 11; cost:€395; info: 069 154 008 680
Reading suggestions
Höhn, Nicole, Höring, Johannes, Das Steuerrecht international agierender Unternehmen
Gabler Verlag, 287 pp, €49.95, ISBN 978-3-8349-2248-9
International trade in goods and services has an important role for German companies. A knowledge of tax characteristics in the international context is essential in order for the consultant to develop optimal tax solutions.
Wenzler, Thomas, Die Selbstanzeige – Ratgeber Steuerstrafrecht
Gabler Verlag, 157 pp, €29.95, ISBN 978-3-8349-2263-2
Those who successfully deliver a self-denunciation cannot be punished, although they have committed fiscal fraud. This guide describes the requirements and gives recommendations for action.