Page 6 of 14
Michael Proft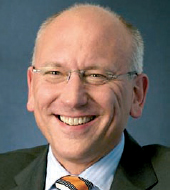 Supervisory Board Chairs criticize VorstAG*
The "Act on the Appropriateness of Executive Remuneration" (VorstAG) of August 2009 for the first time brought in specific statutory provisions that considerably tightened both the professional and the personal liability of Supervisory Board members for the performance of their oversight function in German joint-stock companies.
To enrich the ongoing debate on the role and responsibility of Supervisory Board members with an objective picture of the opinions of the relevant office holders, international personnel consultancy Odgers Berndtson, together with law firm Nieding + Barth, has done a study amongst 650 Supervisory Board chairs of listed companies in Germany, for the first time asking the supervisors about the expediency and the consequences of the new provisions for their oversight activity.
The main finding is that the tighter liability provisions of the VorstAG, especially the personal liability, are overwhelmed only critically by German Supervisory Board members. Thus, ensuring against the personal risk is the top priority for the Supervisory Board chairs surveyed: over 90% of respondents would take out or adjust (D&O) liability insurance. The Supervisory Board people also want to protect themselves by improving reporting (42%), random checks (32%) and the production of expert reports (23%). At the same time, the majority of Supervisory Board chairs expect their oversight activity to become less attractive in the future.
A surprising finding is that better knowledge of the rules also leads to greater rejection of them. Thus, Supervisory Board chairs of DAX companies are better informed than their colleagues from smaller companies, but are also markedly more critical about the new set of provisions, while Supervisory Board chairs from smaller companies tend more to regard the new rules as helpful. The urgency is however something all respondents are aware of: almost all Supervisory Board people wish to take steps within a year to meet the requirements of the Act; 75% have already taken measures or will have done so by the second quarter of 2010.
Given the sharply intensified oversight duties, it is entirely comprehensible that insurance against liability risks is to the fore. It is, however, important for this first step to be followed by a second one, the taking of measures to further professionalize Supervisory Board work. There has been much discussion of this point too. The verdict of the Supervisory Board chairs is that in order to do the oversight job better, 65% of respondents call for more professional skills among Supervisory Board members. Three qualifications in particular will in their view be requisites for Supervisory Board positions: knowledge of the sector, experience in managing companies and sound financial education. Despite the tighter requirements, however, only one in five considered it is advisable to establish a profession of Supervisory Board member.
Professional Supervisory Board members are in principle an alternative, since this would guarantee a qualified basis for Supervisory Board work. Oversight as a fulltime job by former board members or managers has of course existed for decades. The new thing, though, is for managers to deliberately decide in favour of moving to the Supervisory Board even before they reach retirement age. Thus, in our consultancy practice, we meet with candidates who are already leaving operational business at 50 and becoming professional Supervisory Board members. However, in order for this professionalization to become better established, Supervisory Board work has also to be properly paid. Our study shows that 86% of Supervisory Board chairs are in favour of higher remuneration for Supervisory Board members.
What can Supervisory Board chairs do in practice in order to raise the professional skill level of their Supervisory Board and thus at the same time reduce their technical and organizational risk? One important thing is to work out clear profiles of requirements on Supervisory Board members, in order to do justice to the contents of the new requirements. These should be harmonized with available skill profiles of the Supervisory Board members, with the aim of consciously closing skills gaps. In order to find new qualified Supervisory Board members, two thirds of Supervisory Board chairs surveyed would use their own network, and similarly two thirds would approach a professional personnel consultant. Very few wish to include board members in the search.
The work of Supervisory Board members will change fundamentally in coming years. The commitment, time and personal risk of a Supervisory Board member are all going to go up. The times when oversight over a company was a secondary job are definitely past. If the Act on Appropriateness of Executive Remuneration now sets off a change and accelerates the professionalization of the bodies, that would be a highly desirable development.
Michael Proft, Odgers Berndtson, Partner and Global Head of Industry Practice Business & Professional Services, as well as Telecoms, Media & Technology
* The full study "New Regulations for Supervisory Board members – Supervisory Board chairmen's view" can be got from www.odgersberndtson.de.