Page 8 of 14
Campus
DAX-insiders are reticent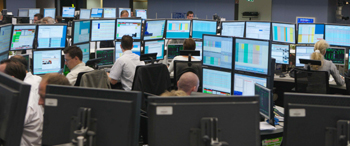 Board and Supervisory Board members of the 30 DAX groups invested in their own firms' shares only very restrainedly in 2009. This emerges from an analysis by the Börsen-Zeitung. In over 50% of the DAX groups, no board member made an investment, and the figure for Supervisory Board members was even around 2/3. At nine DAX companies, neither board nor Supervisory Board members bought or sold shares. On the Supervisory Board side, sale orders were given in only five companies. Board members were active almost exclusively on the buying side, with their financial investments mostly dictated by the rhythm of their share option plans. Deutsche Lufthansa, Fresenius Medical Care, K+S, RWE and Siemens were to the fore here.
DAX majority for sustainability
The theme of sustainability is so important to 54% of DAX companies that it has been brought as a responsibility directly under the board, says a study by Asset Managers Union Investment. Particularly in family firms (Beiersdorf, BMW, Henkel and Merck) the theme of sustainability has a high value. Sustainability is defined here as a threedimensional concept, made up of ecology but also of economic, ethical and social criteria, which lastingly guarantees the future viability of development of companies and national economies. The study used a questionnaire to ask about the areas of environment, social matters and corporate governance. Alongside annual energy consumption, CO2 emissions, product safety and labour standards were just as important as social commitment. 86% of DAX companies were certified under DIN standard ISO 14001. Only 11% of them make the sustainability report a part of the business report.
Boom in capital increases
In 2009 only Vtion Wireless Technology from China came on to the stock market floor in the area of the Prime Standard. This meant that, according to a study by consultancy firm Kirchhoff Consult, the IPO emission volume was only around €55.6 million. In a year, 25 companies ran up a total issue volume of around 400 million Euros. Despite the sluggishness on the IPO market, the capital market was open to accept big capital increases in 2009. Banks in particular issued new shares, but companies from other sectors too placed sizeable capital increases on the market. Without banks, the issue volume in Germany amounted to €8,187 billion. Kirchhoff expect up to 20 Prime Standard IPOs in 2010.

More compliance in the DAX
More corruption cases like the one at Siemens have sensitized the public and companies themselves to the need for monitoring (compliance) systems, say the authors of an investigation by Financial Times Deutschland (FTD). According to it, in the past five years the 30 DAX groups have strongly expanded their compliance structure. Here Siemens is in the lead, with man power of 600, while Salzgitter still gets by totally without a compliance division. Siemens, Deutsche Telekom, Fresenius and Fresenius Medical Care each have a Chief Compliance Officer (CCO) on the board. Some compliance heads do it as a full-time job, while others combine it with heading auditing. At Metro the CCO reports directly to the CEO, while seven other CCOs are directly under the CFO. 26 of 29 CCOs are lawyers by training; only one CCO is a woman. Salaries range from €250,000 to €600,000. Deutsche Post and BMW have set up Compliance Committees instead of a CCO. A total of 14 DAX companies had not put their compliance systems together into a division, says the FTD.
Economic crime up
According to a new KPMG study, in the last three years 37% of German companies were victims of fraud, theft, embezzlement or criminal breach of trust. In 2006 was only 26%. The auditing and consultancy firm commissioned the Emnid Institute to survey 300 companies - from small and medium sized businesses up to DAX groups. Internet crime in particular has risen by leaps and bounds, as transactions and processing increasingly move there. By far the biggest damage is according to the study caused by breaches of anti-trust law, which, however, occur relatively rarely.


DSW extends cooperation
Shareholder association Deutsche Schutzvereinigung für Wertpapierbesitz (DSW) has embarked on two pieces of cooperation. First, it will, from now on be working with Swiss financial research firm Obermatt in the area of the appropriateness of bonuses paid. The bonus index worked out for this is a ranking of recommended bonus levels for HDax companies: the higher the companies' ranking, the higher the bonus deserved. The indicator is thus intended to offer as strong a basis as possible for the appropriateness of bonuses. Second, DSW is cooperating with the American firm Broadridge, which gives institutional investors worldwide voting analyses and recommendations through its electronic voting-rights platform ProxyEdge. From now on, clients can call up DSW recommendations on this platform for all DAX companies. Plans to extend the offering to Prime Standard have been announced.