Page 2 of 13
Buhlmann's Corner
The wolf has cleaned up its sheep's clothing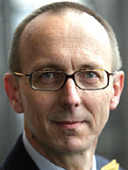 The first attempt by German CG czar Klaus-Peter Müller, the newly appointed chair of the Corporate Governance Code Commission, to adapt the code has started. Obediently, he applied the policy instructions from the ministerial squad, and the Commission did not stop him. The German code no longer clearly represents investor interests, but indirectly also those of all others – so that everyone can be happy, best at the same time. The stakeholder principle is only polemically in conflict with the shareholder principle – since a dividend is possible as long as employees and customers, or rather, customers and employees, lastingly stay on board. Or are there other worlds? Political greenhouse worlds, for instance?
The head of the Commission, who was able to resign from the Commerzbank board just in time to escape personal nationalization and the capping of his director's fees, has sent quite striking signals. For instance, at long last he introduced a female quota. But how do things look for the female quota in the Commission's own case? Not exactly exemplary, is it? But anyway, one lady is in on the game as an exemplary token – all the others are "self-confessed" men. They include Christian Strenger, the uncrowned Pope of governance – whose flaw of not being a woman is irreparable.
One other thing has been cleared up at the head of German governance: supervisory-board members will now become more professional and (at long last?) themselves responsible for their continuing training. Previously things were different – nobody was responsible for it. So it's clear, then, the Code is improving the world. And after all that's what it's supposed to be there for, isn't it? If Code Commission members on the Arcandor supervisory board looked on attentively at how directors, with a fuss you couldn't fail to mishear, drove an old DAX group into ruin, only then to conclude another consultancy contract with the supervisory board chair as a parting gesture, then there are no cooling-off rules that could be thought up for such weird situations. For such a case even the monopoly consultant ISS/RiskMetrics, who still manage to reject their own findings, would be under too much strain.