Page 6 of 13
People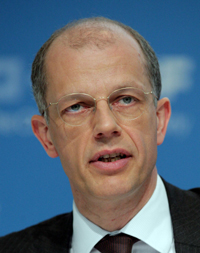 Kurt Bock is to succeed Jürgen Hambrecht at the head of BASF. The chemical group's CFO is taking on the post after the end of the AGM on 6 May 2011. This was decided by the supervisory board. He will be flanked by his opponent and supervisory-board member Martin Brudermüller as deputy board chairman. The succession on the board will be decided in early 2011.
The board reshuffle at Beiersdorf is almost completed, with the appointment of Peter Feld as director for "Region Europe". The 44-year-old qualified engineer is taking over the post on 1 September from CEO Quaas, who has been handling it provisionally to date. Pieter Nota, to date responsible for marketing and innovation, left the cosmetics giant on 30 June. Nota's post is not being filled.
The supervisory board of centrotherm photovoltaics appointed Thomas Riegler as Chief Financial Officer (CFO) with effect from 1 August. He thus replaces Oliver M. Albrecht, who will be taking up new professional challenges, and resigned on 30 June. Riegler has been working for over 12 years in various management positions for the Daimler group in Germany and abroad.
At the end of September Michael Cohrs will leave the board at his own request, stated Deutsche Bank on 15 June. The manager talked of as a successor to Josef Ackermann, Anshu Jain, will in future take on sole responsibility for the core area of investment banking.
Karlheinz Hornung is the new supervisory board chair at Q-Cells. The former CFO of lorrymaker MAN was elected to the supervisory board at the AGM on 24 June, after Andrew Lee had resigned his supervisory board post. As the struggling solar-cell producer further stated, the 59-year-old will replace the current supervisory-board chair Marcel Brenninkmeijer, who will, however, remain a supervisory-board member.
The number of supervisory-board members at Software is to double, following the takeover of IDS Scheer, from the current six to twelve, stated the Darmstadt company on 28 May. The expanded supervisory board is to continue to have equal numbers of employer and employee representatives. The existing four shareholder representatives were confirmed in their office by the AGM on 21 May; two further members were newly elected to the supervisory board: Siemens director Hermann Requardt and Anke Schäferkordt, business manager of RTL Television. On the employees' side, the election will be held in August directly by the staff. In order to ensure the functionality of the supervisory board until then, the competent court has for the moment made a judicial appointment of six employee representatives for the transitional period, on application by the board.
Christian Wulff has announced that he is to resign his VW secondment post. The Minister-President of Lower Saxony, who managed to win election as president of Germany, is to be replaced by David McAllister, the CDU's Land-President for Lower Saxony and Wolf's successor as Minister-President.