Page 1 of 14
VIPsight - January 2014
COMPANIES
Eliott turns down the offer to purchase Celesio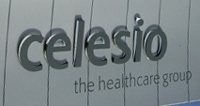 Eliott is not giving in to McKesson's acquisition of Celesio for no less than 6.1 thousand million Euros. The information that the Hedge fund had accepted the US group's offer is seemingly groundless. The pharmaceutical trading company is offering 23 Euros for every share of the Stuttgart company. It must receive no less than 75 percent of the capital plus two convertible bonds by January 9 for the transaction to go through. Haniel had already agreed with McKesson to offer up its 50.01 percent. Celesio's Board of Directors and Supervisory Board had advised shareholders to accept the offer, but so far their answer has been to give McKesson the cold shoulder. By December 19, 2013 the Americans had collected only 0.21 of the share capital. Following Eliott and  hoping to get more money, other hedge funds have bought up Celesio stock. During Vodafone's buy up of Kabel Deutschland, Eliott purchased approximately ten percent. Unable to destabilize the deal, it put up part of its holding. If the transaction with McKesson fell through, Eliott's share package would be worth much less. Haniel, on the other hand, could return its quota into its share portfolio and wait for the next opportunity.
Evotec: a downward revision
A failed research project is obliging TecDax listed Evotec AG to trim its turnover estimate for 2013 from 90 to 100 million Euros to 84 to 86 million. According to  company management, the net adjusted profit might be lower than the figure for 2012 and not higher as was first thought.
By and large, the company's revenue derives from milestone payments, and a research project not carried through means that the company is deprived of a sizeable sum. Evotec was conducting pre-clinical trials jointly with Janssen Pharmaceuticals on a potential active ingredient to counter depression. German press agency dpa reports that Evotec had hoped the commission would bring in some 100 million Euros.
Rhön Kliniken: outbreak of peace in the hospital sector

A Christmas truce has been struck between the major shareholders of Rhön Klinikum AG. Asklepios and B.Braun whose combined holdings amount to some 20% of share capital, are no longer opposed to selling off 43 Rhön clinics to fellow shareholder Fresenius, who holds 5% and who, by this transaction, will be able to plough the largest proportion of Rhön 's business into its own network of clinics. In exchange, Fresenius's subsidiary, Helios has promised medical technology producer B. Braun,  a long-term purchase contract. This move will bring 117 clinics under the wing of Fresenius Helios which, with a turnover of 5.5 thousand million Euros, becomes Europe's largest corporation of private-sector medical clinics.