Page 3 of 13
Buhlmann's Corner
Banks 'R' Us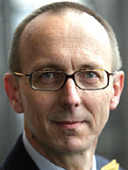 How far do older banks get from people by impersonal call-centres and ATMs and building an authentically industrial-scale production line (product – credit, investment etc.);
How near are bank customers, so used to seeing their overdraft interest figures, to realising the size of bonuses pocketed by some bankers;
How long do our transactions have to be burdened with interest rates, value dates etc, all seemingly harmless until the façade crumbles and the classic conditions that banks apply to account management are seen to bear no relation to reality;
How soon after the months of deliberation and investigation before regulators are able to come up with a sensible answer as to how global asset managers at BlackRock could decide, if they bought a bank ....
Who gets to ask the right questions? Or should it be "who can understand the answers"?
"Wir sind Bank" declared Nicola Leibinger-Kammüller (CEO of Trumpf and long-serving member of Supervisory Boards in Germany, long before state-funded quotas reserved for women came up for debate) during the press conference held for launching the initiative. Following up on the slogan "rooted in SME, rooting for SME", Trumpf,  machine tool manufacturer opened a bank  - from brokerage activities  for leasing contracts, a bank was born with deposit-taking business for employees.
Concerned as they are for the security of their investments, "Wir sind Bank" has been on the lips of industrial giants such as Airbus and Siemens for some time, also because in this guise they are  direct customers of the central bank. Naturally, groups that are very close to the final consumer, such as Volkswagen and Daimler also have their banks, often with a better rating than that held by savings banks and credit institutes.
It is of little importance whether the pendulum is swinging in favour of or against the revenge of the bank customer. What is important is that bank customers are slowly beginning to stand up for their rights. Which is why I was so struck by what Leonhard (Lenny) Fischer has in mind for HF Bank. At long last someone at the wheel who knows both sides of the coin and can see beyond the tip of their own nose.
The day bank employees stop saying "we are the bank" will be the day bank managers had better begin caring less about their bonuses and more about customer complaints. Culture is like sailing; when you get up to speed, you'd better be pointing in the right direction whether it's an ocean liner you're sailing or a sail boat (SME style).