Page 3 of 13
Buhlmann's Corner
Who will pass judgment on the last four weeks?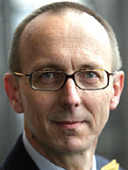 What will we remember of this season of quarterly reports? Will it be the 168-year-old press agency AP entrusting its reporting on ALCOA to computers instead of to real live reporters? Will it be that on August 7, three days after the second of two profit warnings - June 30 and August 4 - Bilfinger got itself a new CEO (along the lines of Siemens in 2013). Or will it be that Adidas has still not yet issued its second profit warning, but Herbert Hainer is staying put as CEO? 
Anyone who, like him, occupies a position of responsibility for 13 years, cannot blame other people's mistakes or errors of judgment. True, the share quotation has more than doubled since the outset, but it is also undeniable that in this financial year Adidas stock has lost more than a third of its value, and that mostly after the profit warning. With the world soccer championship (manna from heaven for Nike, Puma and the likes) this had all the makings of a record year. Now, by contrast, nary a whisper, as in 'che sarà sarà and keep a low profile' …
During the last shareholders' meeting, the Supervisory Board was asked if it really didn't care that their company was making not the slightest attempt to secure at least half of the profit of the continuously growing market leader. The Supervisory Board, re-elected this year with two new women members (one a Henkel executive and the other with Jung van Matt), could relax and keep silent, but that would be unwise. Not because the senior citizen and chairman aside, the other three capital representatives state 'consultant' among their professions.
No, it's much simpler than that. If cuts and amendments were being made to mid-term planning, lowering the year's target from 900 million to 650 million Euros just a fortnight after the announcement that "Adidas was a resounding success at the 2014 soccer world cup" it should come as no surprise that managers started to play the victimised employee, unwilling to shoulder responsibility for executive error or answer awkward questions from shareholders, approximately 85% of whom do not live in Germany. It is striking that the shareholders who pulled out in early 2014 are mostly long-term investors who after last week's 30% drop, were replaced by more volatile and dynamic individuals, less tied to the past but willing to give and do a lot for the future and achieve their expectances.
Not to be overlooked are the points raised by suppliers within the apparel supply chain, conducted by the Investor Coalition and coordinated by the Interfaith Center on Corporate Responsibility (ICCR).
Who knows, perhaps a single ad hoc news item or profit warning would be enough to stir the Supervisory Board and wake the share price up with a kiss.
In the end, the prize for the best piece of news in these times of final reports goes to Pictet and Lombard Odier who for the first time in centuries lent transparency to their conduct. One can't help wondering, though, whether the silence was breached for fear of the Americans or for pride in their performance?