Page 4 of 13
ACTIONS CORNER
Hard on the heels of their counterparts in Audi, the BMW sales network has also been sanctioned by the Chinese monopolies authority under allegations of illicitly stipulating pricing agreements. Citing official sources within the Beijing government the Zinhua press agency states that the total amount of the fine was 1.6 million Yuan (195,000 Euro). The measure is to be seen as the official reaction to Chinese customers being obliged to pay in part substantially higher prices than in Europe or the USA. BMW regrets the reprimand meted to the four concessionaires involved.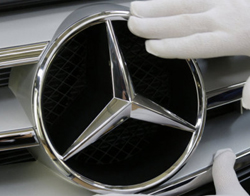 Daimler in China is risking sanctions for alleged price fixing. It is said that the car-maker's exploitation of its dominant position to set the prices of customer service spare parts and car servicing is tantamount to a monopoly. Representatives of the National Development and Reform Commission are said to have no doubt that on the basis of the investigations so far carried out, Mercedes ought to prepare for facing sanctions. There is as yet no indication as to the amount. Daimler's headquarters in Beijing have merely confirmed that they are cooperating in the investigations. The Chinese authorities have been investigating the pricing policies of car manufacturers for some weeks.
Jürgen Fitschen and four former fellow Deutsche Bank boardroom members are to appear before Munich magistrates on counts of attempted perjury in the Kirch case. Co-president Fitschen, his predecessors Rolf Breuer and Josef Ackermann, and the former chair of the Supervisory Board Clemens Börsig have been under investigation for some time for attempting to pervert the course of justice in order to block the claim for damages of media mogul Leo Kirch and his heirs in their legal proceedings against Deutsche Bank.